We were back in routine this week, but the calendar has just seemed so jumbled this year. One week we have a normal schedule and the next week, we have two days off, a field trip, or an evacuation drill.
This week, I did a lot of self-reflection about my teaching up until this point. I started the week a little anxious about not being completely planned and second guessing myself in some of my classroom management techniques, and overall organization of my room. I always envisioned my classroom as a well oiled machine and in a very specific way, but when working with others I'm happy to say however, that after my plans came together, I felt much better.
In math we began wrapping up multiplying triple digit by double digit numbers and were prepping for our test on Friday. My biggest concern with my math block is that students are not getting the most of out the time they have, and the activities that they are doing. We use Pearson Envision and operate on an almost "flipped classroom" platform. We assign notes for students to complete at home and eliminate and mini lesson during instruction time. We start with a Solve and Share which is provided to us through the curriculum. The Solve and Share promotes talking about math and developing reasoning for their solution with a partner at a different skill level than their own. After Solve and Share, we move to groups and again have students work on activities through Pearson.
Some of these activities feel like we're teaching to the test, meaning PARCC, instead of really engaging these kids in what they need to be learning. Sure it's easier to just assign content that is already there and set up for you, but it seems to me that this just isn't cutting it anymore. I'm doing some research about math centers and 5th grade pacing in general, in hopes that we can get a better system going. We start a new unit on Tuesday and I am hopeful that we can get some great things started. Not being a "math person" myself, I have a hard time finding/creating engaging activities that I understand and would be able to teach well. Also, the content and way in which math and all curriculum is moving is hard. Let just get honest for a second. What these kiddos are expected to do in 5th grade is certainly not something I was expected to do. I see their confused faces and struggles and want to make learning engaging and fun for them so that they don't grow up hating math like I did.
Two positives that I was able to identify however, was that one, I was able to create an assessment aligned to the two standards that we were assessing in math. Each questions was aligned to a particular standard, making it much easier to evaluate understanding and see exactly where students are at with each standard. Two, upon grading the tests this weekend I found that one of my students took the time to try to explain how she received each answer as a means of trying to go beyond the standard. It was a very proud teacher moment for me.
In reading, I feel like I have a more stable ground. Teaching reading is quickly becoming one of my absolute favorite things in the world. I started the week by developing a CAFE board that is now behind my desk where I hold my small group reading time. Instead of the normal CAFE options, I put up the "I Can" CCSS for 5th grade so that the students can identify the goal they are working on, and it's worded in a way that they can understand. It also is labeled with each standard that it aligns to. I got the pre-typed and formatted "I Can" statements from The Curriculum Corner, which is a great resource if you're looking for things aligned to the common core!
I use Planbook to develop my plans for the week. They provide you with a free 30 day trial and then it costs $12.00 for the year to use. TOTALLY worth it though. Thanks to my mentor and blogger, Colleen Noffsinger at Literacy Loving Gals for the suggestion. Using Planbook has allowed me to create a block for each of my 5 reading groups so that I have a specific plan for what I am doing in each group. You are also able to insert the standards you are working on into each lesson. I highly recommend it.
As you can see, I usually have a very solid plan for what I am doing in groups and have to really come to terms with being okay with drifting away from those plans. Nearly every group I meet with comes to a point where there are so many teachable moments that I have to veer of from what I am doing and create something new in the moment. I love that I have this flexibility. What I need to try to do now is instead of getting frustrated looking back at plans and seeing that we haven't covered a few specific things, that the kiddos are learning things in the moment that they are struggling with and that benefits them as well. Here's some images from my small groups all of which are working on different goals, skills and strategies.
Identifying a character's problem as a means of summarizing a story.
Identifying punctuation inside and outside of a sentence.
Learning about summarizing using text support and identifying the author's purpose.
Teachable moment: Student identified these words as ones he did not know and added them to his personal word wall. Cannot read them by sight so we found some patterns–sounds that C's make when they have a vowel next to them and when they don't. Flashcards were made to practice and the student will begin to practice identifying words such as these.
We had our first iSWAT meeting this week and it was a huge hit! We created a mind map to brainstorm what we may want to do in the club this year and I also created badges for each of the students to wear around as proud members of the iSWAT team. Being a part of iSWAT is a huge honor, as the students have to be nominated to be in the club. We decided that we're going to start working on Irving's first new station "News from the Nest", since we are the "Eagles". Thanks Mrs. Havis for that awesome suggestion!
Making mind maps for what we want iSWAT to be this year.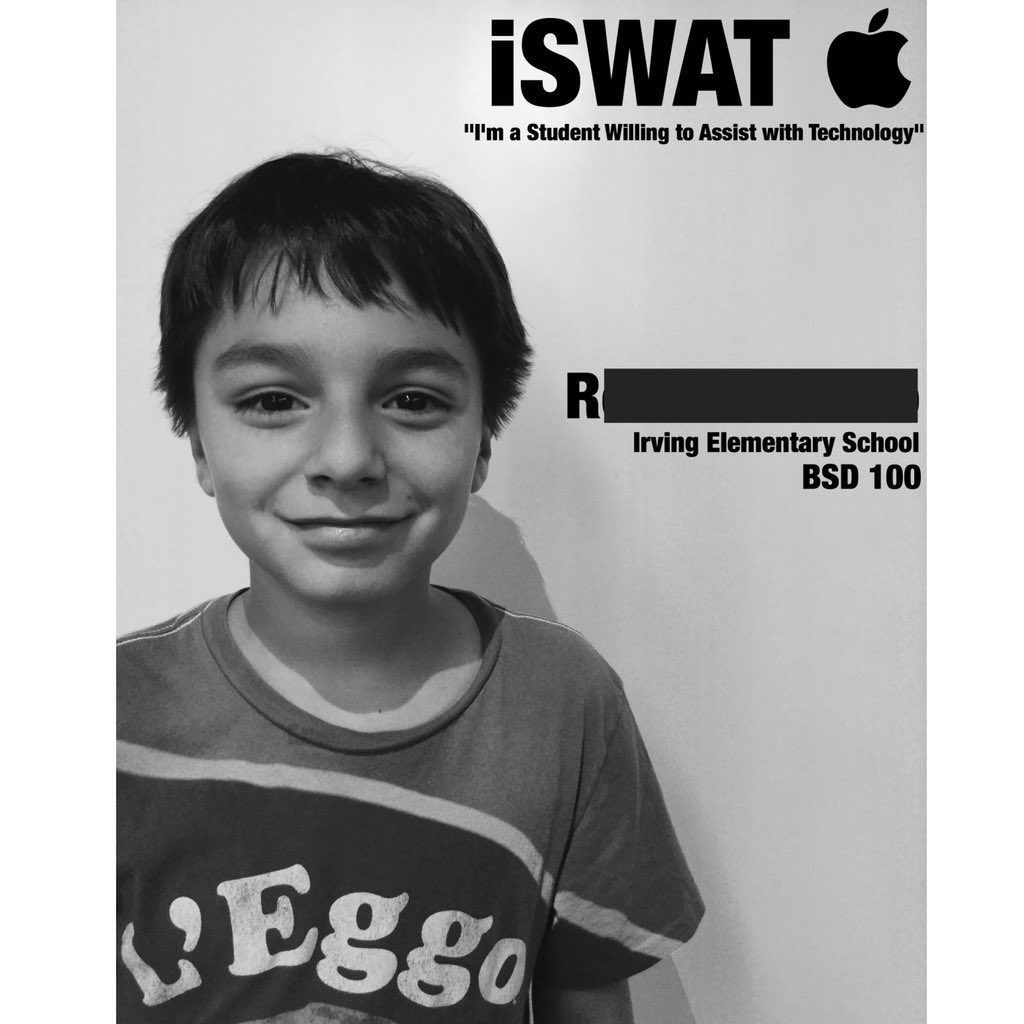 I also created Irving's first POP board, with the help of our PBIS leader at Irving, which stands for Positive Opportunity for Praise. Staff members can fill out a P.O.P to recognize another staff member and thank them for something they have done for them. It turned out cute and I'm excited to see some positivity in our building!
Overall, it was a great week filled with reflection. On Tuesday, I will have my first observation allowing for even more reflection and growth opportunities. As I move into next week and looking back on this past week, here is a quote that I think is very fitting.